Whether a container is being used for storage, residence, or a specialised purpose, insulation is essential for maintaining a stable internal environment.
Foil insulation stands out among the numerous insulation techniques as being a better option than spray foam, due to its coating of reflective foil, which serves to reflect radiant heat out of the container's interior. 
This characteristic keeps the container cooler and lessens the need for air conditioning, which makes it particularly useful in hot regions, if your containers are being shipped to warmer regions. However, spray foam primarily protects against convective and conductive heat transmission. It does less to stop the gain or loss of radiant heat.
In this article, we'll look at foil insulation's benefits and why it outperforms spray foam for container insulation.
Cost-Efficiency:
Spray foam is typically more expensive than foil insulation. It is a more affordable choice for insulating containers because the components are easily accessible, and the installation procedure is simple. Despite its effectiveness, spray foam can be expensive due to the cost of the supplies and the knowledge needed for a quality installation.
Installation:
For many people, installing foil insulation is a do-it-yourself project they can handle. It entails cutting and attaching the foil sheets with adhesives or mechanical fasteners to the interior of the container. This can be accomplished without specialised tools or a lot of training. However, installing spray foam needs more expertise and frequently calls for outside help. A two-part chemical mixture must be mixed and sprayed, which can be messy and even dangerous without the proper safety gear.
Management of Condensation:
Condensation is well controlled by foil insulation. It provides a vapour barrier that stops moisture from building up on the inside surfaces of the container. This is essential for stopping the growth of mould, corrosion, and other moisture-related problems. In excessively humid situations, spray foam can not be as effective as a moisture barrier. Spray foam that has been placed incorrectly may create hidden pockets of moisture that could eventually cause long-term damage.
Environment-Related Issues:
It's common to think of foil insulation as being more environmentally friendly. At the end of its useful life, it can be recycled because it often comprises recycled elements. Spray foam can have a more negative influence on the environment, especially those that contain chemicals like HFCs (hydrofluorocarbons). These substances may cause ozone layer depletion and have a strong potential to cause global warming.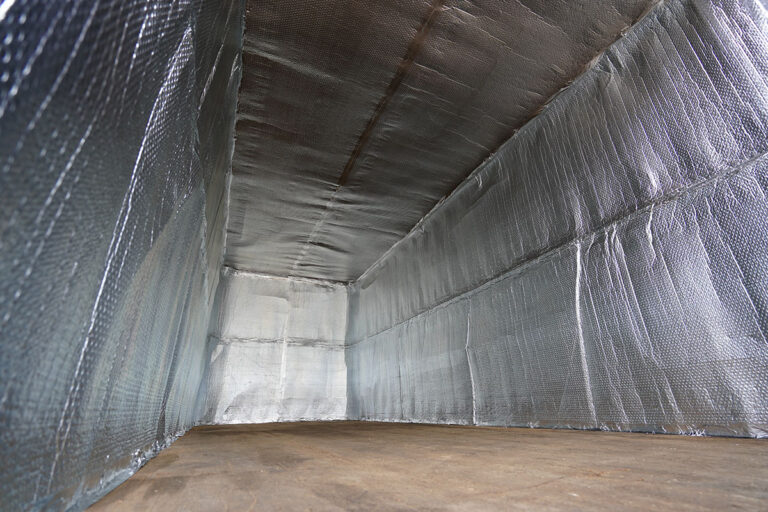 Spray foam and foil insulation both have advantages, but foil insulation for insulating containers is a standout choice due to its reflecting qualities, affordability, simplicity of installation, condensation management, versatility, and environmental friendliness. By selecting foil insulation, you not only contribute to a sustainable and affordable insulation solution but also to a more comfortable and energy-efficient space. And as a specialist manufacturer of highly reflective foil insulation solutions you can take our knowledge as fact, as our Insulated Shipping Container Liner Kits are THE  most cost effective method of protecting goods whilst in storage as they are designed to significantly reduce the risk of  condensation.
Do you require an Insulated Liner for a Container of a size that is not standard? We can create it, just press HERE input the details and we will be back in touch with your bespoke quote. As the manufacturer, we can guarantee you will not purchase these kits for less elsewhere
The least expensive way to safeguard items while they are being stored is with one of our Insulated Shipping Container Liner Kits.
Additionally, they can be used to safeguard perishable items that need to be  kept at a certain temperature throughout the cold chain transit process, like food, beverages, and pharmaceuticals. We provide our Insulation for Containers as a comprehensive kit. All kits come in rolls that are measured precisely and have adhesive backing that is ready to slot into place, making installation simple. Foil Joining Tape is included with every container liner insulation package to seal all edges and connections.
As a manufacturer we guarantee you will not purchase our product anywhere else for less.
You can order online or call our sales team on +44 (0) 114 3230474 to order. We also offer Next Working Day Delivery on all Orders placed before 12pm!